Centres for Space Science and Technology Education (CSSTE)
In order to translate the recommendations of the Committee and the General Assembly into an operational program, the Program on Space Applications initiated a project aimed at the establishment of regional centers for space science and technology education at existing research and higher education institutions in each region covered by the United Nations Economic Commissions: Africa, Asia and the Pacific, Europe, Latin America and the Caribbean, and Western Asia.
Each center is conceived as an institution that should offer the best possible education, research and applications programs, opportunities and experience to the participants in all its programs. Thus the principal goal of each center is the development of the skills and knowledge of university educators and research and applications scientists, through rigorous theory, research, applications, field exercises, and pilot projects in those aspects of space science and technology that can contribute to sustainable development in each country.
The initial program of each center focuses on:
remote sensing and geographic information systems;
meteorological satellite applications;
satellite communications and geopositioning systems; and
space and atmospheric sciences (

Space Weather

).
The activities at each center are undertaken in two major phases. Phase 1 emphasizes the development and enhancement of the knowledge and skills of university educators and research and application scientists in both the physical and natural sciences as well as in analytical disciplines. That is accomplished over a nine-month period as laid out in the curricula of the education program of each center. Phase 2 focuses on ensuring that the participants make use of the skills and knowledge gained in phase 1 in their pilot projects, which are to be conducted, over a one-year period, in their own countries.
The activities and opportunities provided in the two phases should result in the development and growth of capacities that will enable each country to enhance its knowledge, understanding, and practical experience in those aspects of space science and technology that have the potential for a greater impact on its economic and social development, including the preservation of its environment.
Locations of Centers for Space Science and Technology Education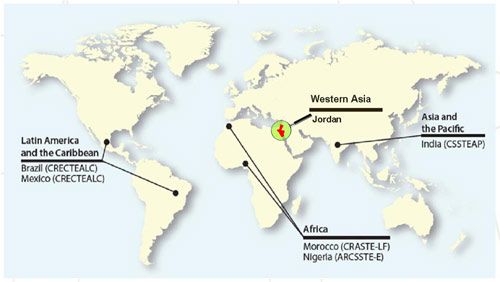 .